Wednesday, November 29, 2017, 12:00 AM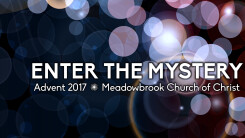 On December 3, we will enter the season of Advent. Advent includes the four Sundays before Christmas. before the arrival of Christ's birth at Christmas. As a church family, we'll be doing a number of things throughout this season together in worship. We'll also provide scriptures we'd like to encourage individuals and families to read and ponder together each day.
There are two exciting Sunday morning class options for adults:
1. When the morning stars sang together, and all the sons of God shouted for joy, Family Center, room 5
This class, taught by Keith Parsons, will explore some of the connections between the arrival of Christ as described in John 1 and the wisdom tradition of the OldTestament. Come prepared to open your eyes to a different way of thinking about Christ's arrival this year! Keith will buy you a candy bar if you can tell him where his class title comes from.

2. Advent across Generations, Family Center, fellowship hall (preschool early room)
This class is built around the names of the four candles we will light on the Advent wreath each Sunday morning: hope, peace, joy, and love. We will listen to and discuss the Bible together, pray together, and provide take-home materials for families to utilize for the week. This class is intended for children ages 3-99, Children two and younger are also welcome to join their parents and siblings for this class, or they can attend class in the eduction building.

Questions? Call Amanda Box at 601-362-5374.