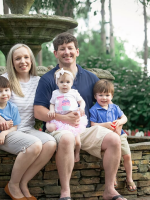 Brian Cunningham
Senior Minister
e:
Senior Minister, Brian Cunningham joined the ministry staff at Meadowbrook in 2019. As a native of Birmingham, Alabama, Brian earned a B.S. in Business in 1999 from the University of Alabama. In 2010, he left the business world to go into full time ministry. Brian continued his education by earning a Master's of Christian Apologetics from Biola university in 2011, and is currently a PhD candidate at Liberty University Theological Seminary.
Brian's ministry experience includes campus ministry, working with young professionals, preaching, and leading worship. A passionate evangelist, Brian stays on the mission field interpersonally as well as participating in international mission campaigns.
Previous adventures to ministry include playing football for the University of Alabama from 1994-1998.
Brian and his wife Vicki have three children and one dog: Jacob, Oliver, Millie, and Poppy, respectively.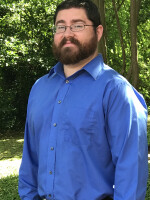 Ryan Howard
Youth and Family Minister
e:
Ryan Howard earned degrees in Youth & Family Ministry and History in 2012 from Harding University and is currently pursuing a Masters in Christian Apologetics & Philosophy at Trinity College of the Bible & Evangelical Seminary. His work experience includes youth ministry, worship ministry, and organizations that provide resources and counseling for the homeless. Ryan is originally from DeKalb Texas, loves a ridiculously wide variety of music, and favorite hobbies include enjoying Greek food, reading sci-fi/fantasy literature, causing people to question their own world views, and dropping obscure references into casual conversation.
Ryan is passionate about helping non-Christians and Christians alike discover the robust case that can be made for the truth of Christianity, mentoring teens in critical thinking and biblical literacy, sharing the glorious Good News of Jesus Christ, and helping his brothers and sisters love the Lord our God with their minds.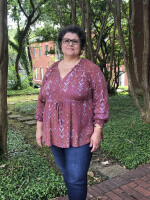 Jennifer Blake
Children's Minister
e:
Jennifer's background reflects a wonderful variety of gifts and experiences including long term mission work in Nigeria, and being a small business owner. Jennifer has serious gifts in the visual arts and loves to nurture growth whether it's in the garden or with teaching children the love of Jesus. Jennifer's areas of responsibility include families with babies through sixth grade. Jennifer and her husband Brad have four children: Ibrahim, Musa, Rahamatu, and Imani.
Julie Jacobs
Office Administrator
e:
Ray has been on staff at Meadowbrook since 1991. He knows pretty much every nook and cranny of the nearly 60,000 square feet Meadowbrook has under roof. He is a jack-of-all-trades, and a master of some. No job is too big or small for him. Ray loves to spend his free time hunting, drag racing (legally) and watching his Philadelphia Eagles.