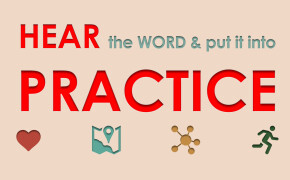 Our "anchor gospel" for 2016 is Luke. As you listen to words of Jesus recorded in Luke, you may notice that Jesus' teaching moves his followers to action. Again and again, Jesus' teaches that the blessing of God comes to those who not only hear the word, but also put it into practice (e.g. Luke 6:47; 8:15, 21; 11:28). As we prepare for a fresh reading of God's Word in Luke's gospel this year, we begin by focusing on ourselves as hearers. How can we get ready to hear God's word? Are we simply listening for new information, or for an invitation to live?
In Luke 10:25-28, a lawyer comes to test Jesus with a similar query. "Teacher," he asks, "what must I do to inherit eternal life?" Jesus replies, "What is written in the law? What do you read there?" The lawyer answers, "You shall love the Lord your God with all your heart, and with all your soul, and with all your strength, and with all your mind; and your neighbor as yourself." And Jesus says to him, "You have given the right answer; do this, and you will live."
Heart. Soul. Strength. Mind. The way to life begins with loving God with all we have. For this series, we turn our attention to our teacher, Jesus, as a model of what it means to love God with all of our heart, soul, strength, and mind. For each sermon, we will return to this central exchange between the lawyer and Jesus, as well as explore a variety of stories from Luke that show us how Jesus loved God with heart, soul, strength, and mind. We do so inviting the question: After hearing this word, how is God inviting me to respond? Each sermon will conclude with some recommendations for spiritual practices related to each dimension of our selves (heart, soul, strength, mind) for the congregation to try together.