Kentucky Floods 2022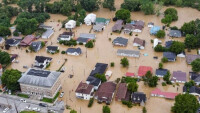 Update on the Kentucky Flood Relief.
We are currently working with a clinic in Fleming-Neon that was completely flooded as well as that entire area. We will be delivering medical supplies for the clinic as well as basic needs supplies for this community this week.
**If you have any resources for getting medical supplies and equipment to this area please let us know.
The
churches we are in contact with all across the flooded areas are telling us that so many roads and bridges are out that many of the families that need help on their homes can't be reached. We will continue to work on this and update on volunteer opportunities as soon as we have any new info.
**Please continue to keep these families in your prayers.
Donations can be made through our website
Churches of Christ Disaster Response Team
9285 S State Route 202
Tipp City, Ohio 45371