Here at Meadowbrook, we know that entering a new congregation for the first time can be rather daunting. That's why it is so important to us that you feel welcome from your very first visit.
What you'll find here is a group of people from all walks of life bound in our common love for God and for each other. We believe that you will find our worship gatherings full of joy and praise and stimulating to your worship and growth as a follower of Christ.
But Meadowbrook is about so much more than Sunday mornings. Whether it is serving together in one of our many Hands and Feet ministries, sharing a meal together as a church family or being together in Small Groups, Meadowbrook is a place where you can live out Christ's calling on your life in a community of Spirit-led believers.
If you decide to join us, you probably have a few questions. Click on the any of the frequently asked questions below for more information. If you have other questions, feel free to contact the church office and talk to one of our friendly staff members.
Interested in becoming a part of Meadowbrook? Find out more about what it means to be a member at Meadowbrook.
---
Where to go when you get here
Parking
When you turn in from the frontage road entrance, there is visitor parking immediately in front of our Education Building. If those spots are all taken, there is plenty of space on the opposite side of the building.
The layout is a little crazy
One of the great things about Meadowbrook is our rich history. As we've grown over the years, so have our facilities. We're kind of like a house that's been added on to a few times. On a typical Sunday morning, we have classes scattered throughout our campus. All of our children's classes are in the Education building. All adult classes are held in the Family Center. A friendly Meadowbrook face will be there to greet you when you get here. To give you a little advance notice, the layout is as follows: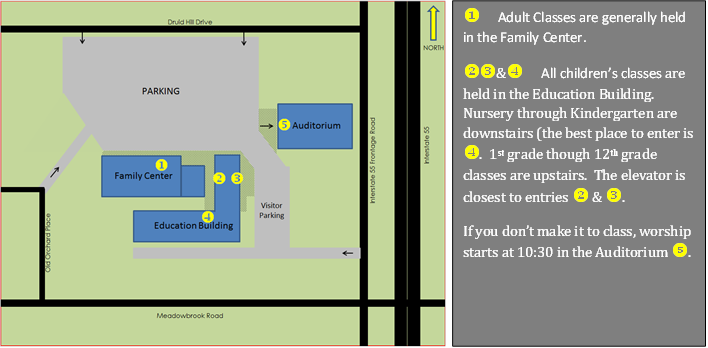 What should I wear?
Meadowbrook is a place where you can "come as you are". We are far more concerned with what's going on inside than what you look like outside. Some prefer jeans and tennis shoes, other like to wear a suit and tie. You'll find both on any given Sunday.
What is the worship like?
In our assemblies we praise in the a cappella musical tradition, that is, without musical instruments. We value the beautiful harmony experienced when each of us lifts our voices and hearts together towards God in mutual praise. We think that all voices, both old and new are valuable. That's why we sing songs that have stood the test of time as well as more contemporary songs. If you've never experienced a good a cappella worship, we think you'll find it extremely uplifting. Of course, music is only part of what goes on during our Worship Gatherings.
What about my kids?
We love kids! We have multiple opportunites for your children to participate and learn about becoming Jesus followers. For your child's safety, we reguire that all children in the 2nd grade and below be checked in / out by a parent or guardian.
Classes begin at 9:30 for all ages. During our worship assembly, a safe and clean nursery is provided for ages 0-2. It is staffed by a loving group of volunteers who provide the exceptional care for your "little ones", and is located in the same room as the nursery class.
After classes, kids ages 3 to 2nd grade have the opportunity to experience KFC (Kids For Christ...Meadowbrook's Children's Church). This runs from 10:30 until the worship assembly is finished. Parents should pickup their children from the their respective classrooms.
Kids from the 3rd grade up are invited to join in Meadowbrook's worhip gathering immediately following class.
Are there classes for adults?
One of great blessings of Meadowbrook is a wealth of outstanding teachers. The Adult Spiritual Growth ministry at Meadowbrook offers a wide range of classes for adults of all ages. Classes meet in the Family Center at 9:30 am on Sunday and 6:30 pm on Wednesdays.
What about communion?
Each Sunday we take Communion, also known as the Lord's Supper. We invite all Christians to share this communal meal with us.
Will I be asked to give?
Offerings are given as an act of worship for attendees who call Meadowbrook their home. We teach and believe in Biblical stewardship. For new visitors, your presence is a gift to us. We want you to be blessed without feeling any obligation to give.